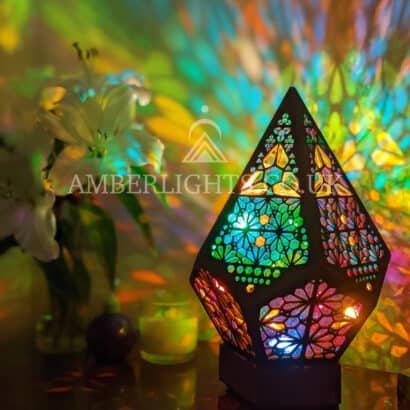 POLAR STAR – MEDIUM
£455.00 Inc. VAT
This Polar Star Lamp is a mid range size to the larger polar star lamp as we have had many requests to create a smaller version. The projections are big, bold and beautiful, just as beautiful as the larger lamps, covering your space with immense blues, purples and a dash of pink.
Compare
The polar star wooden lamp is our medium size lamp range and sister lamp to the sunrise medium lamp, covering magenta pinks/sunset oranges and yellows. We also have a much larger version of this design if you have a bigger space to transform in both colours waves called Polar Star and Sunrise Floor Lamps.
The lamp stands beautifully on its own as a day to day furniture piece with a metallic gleam to the pattern, but when sun shines onto the lamp, many colours will appear, creating a tranquil atmosphere. But the real magic comes to life at night. Watch the lamp change colour, according to the angle from which you view it. This lamp makes a wonderful zen lamp for yoga spaces, studios or to light up any space to transform into an aura of colours waves.
CHARACTERISTICS OF THE LAMP-
Sustainable wood base
Height: 45 cm
Width: 25 x 25 cm
Bulb type: LED (low energy)
⭐All our lamps work in all countries so no need to supply any kind of electrical components and all lamps come with a led bulb⭐
All lamps are made to order unless stated READY TO SHIP but it is worth dropping us an email as we don't always find the time to update our store
All shipping is free by DHL, which will take 2-6 working days once the lamp is ready
From our colourful galaxy to yours
Amber x