Our role as a creative lighting artists at Light Night Leeds 2023 involved captivating the public with our mesmerizing metallic colours and twinkling LED lighting, seen through the enchanting plexiglass. The audience was invited to step into our Seed of Life lighting installation, beautifully shaped in a dodecahedron, and immerse themselves in a kaleidoscope experience that ignited their senses with a dazzling array of light and colour.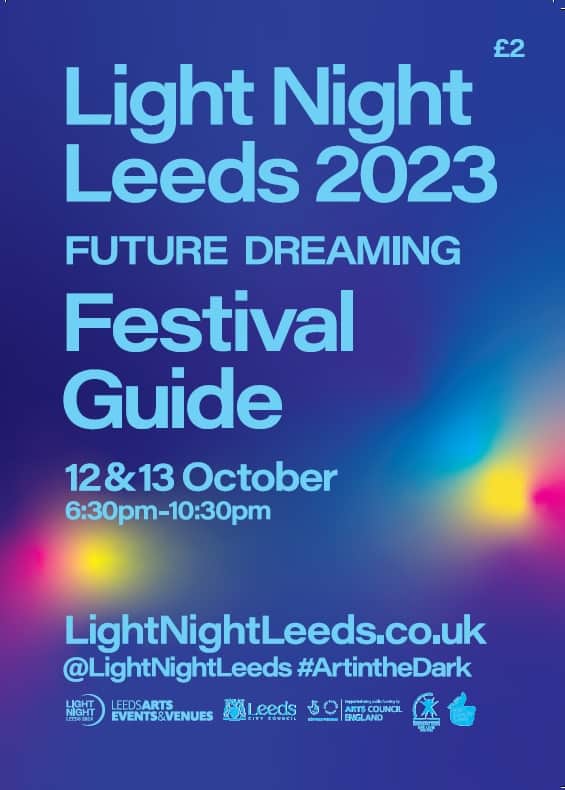 We were thrilled to have our Seed of Life Lighting installation featured in the Daily Mirror and The Times in October as part of Light Night Leeds 2023, the UK's biggest lighting event. This recognition is a testament to the hard work and creativity artists and organizers. We're honoured to have had the opportunity to showcase our innovative lighting installation for the second time, and we're grateful for the chance to captivate the public's imagination through our art. Thank you to everyone who contributed to this success!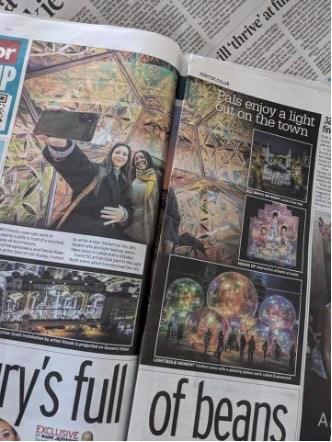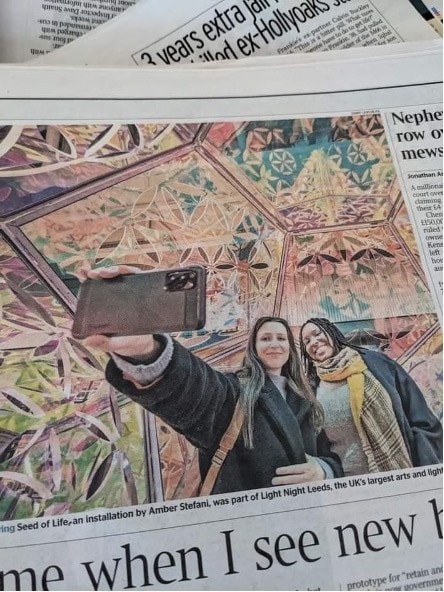 Light Night Leeds was first launched in 2005 as part of a wider initiative to promote the city's cultural and artistic offerings. It was initially a one-night event.
Over the years, the event has grown significantly in scope. It expanded to a two-night event featuring a wide range of artistic installations, performances, and interactive lighting exhibits.
Light Night Leeds has become known for its diverse range of artistic contributions, including light installations, digital art, music, dance, and more. Artists from various disciplines participate in the event, making it a dynamic and creative platform.
Light Night Leeds has a strong emphasis on community engagement. It encourages people of all ages to explore and interact with the installations, fostering a sense of participation and connection with art and technology.
Light Night Leeds has had a positive impact on the local economy, drawing tourists and boosting businesses. It has also enriched the city's cultural scene, contributing to its reputation as a hub for innovative and interactive art.
It serves as a hub for innovation in the field of lighting and interactive art, providing a platform for artists to experiment with new technologies and techniques. This has helped push the boundaries of what is possible in the realm of interactive lighting.
As we prepared for this event, our focus was on integrating a cutting-edge lighting technology into the installation. This endeavour required disassembling the entire structure, removing each frame from every panel, and seamlessly embedding the new lighting. This meticulous process involved weeks of planning and rigorous testing of the lights with their various sequences.
Our motivation for adopting this new technology was to enhance the installation's night-time beauty. Moreover, with this technology in place, we have exciting plans to synchronize music with the lights, creating a captivating dance of light and sound. This innovative feature is set to debut in the coming months.
Returning to Light Night Leeds was particularly exciting for me. We had the privilege of
showcasing the "Seed of Life" back in 2018 when it was known as the "Dazzling Dodecahedron." It received a makeover shortly after that event. Originally, it had three steps to enter, which posed a challenge for those with limited mobility. However, it's now accessible at ground level.
Present Day
As the creative director of Amberlights, I don't often get the chance to attend lighting events because I'm a full-time mother to two young children. Still, I managed to make it to this one, and I'm so glad I did. It was a fantastic opportunity to connect with fellow artists who were also part of the event.
"This line of work can be quite a challenge, and at times, it can feel quite lonely. There aren't any well-defined courses or readily available resources for building these intricate lighting structures. It's pretty much a journey of trial and error at every turn.
I owe a great deal to my business partner, Barnaby Crockett, who's been there with me right from the start. He's been the true backbone of our business. In fact, he's fully mastered the new lighting technology we've been working on.
And I can't forget to mention my little brother, Gervais. He played a pivotal role in getting this new lighting technology off the ground earlier this year, and now Barnaby has completely mastered it. Teamwork and support are the cornerstones of our journey in this challenging and isolating field."
Attending Light Night Leeds this year was so much fun, there were some outstanding artists and exhibits that truly stood out to me. My particular highlights were "Emergence" by This is Loop. Their large-scale sculpture, which incorporated moving lights and an original soundscape by the NYX: electronic drone choir, completely blew my mind. It was a truly beautiful and mesmerizing experience. You can learn more about their work at https://thisisloop.co.uk/.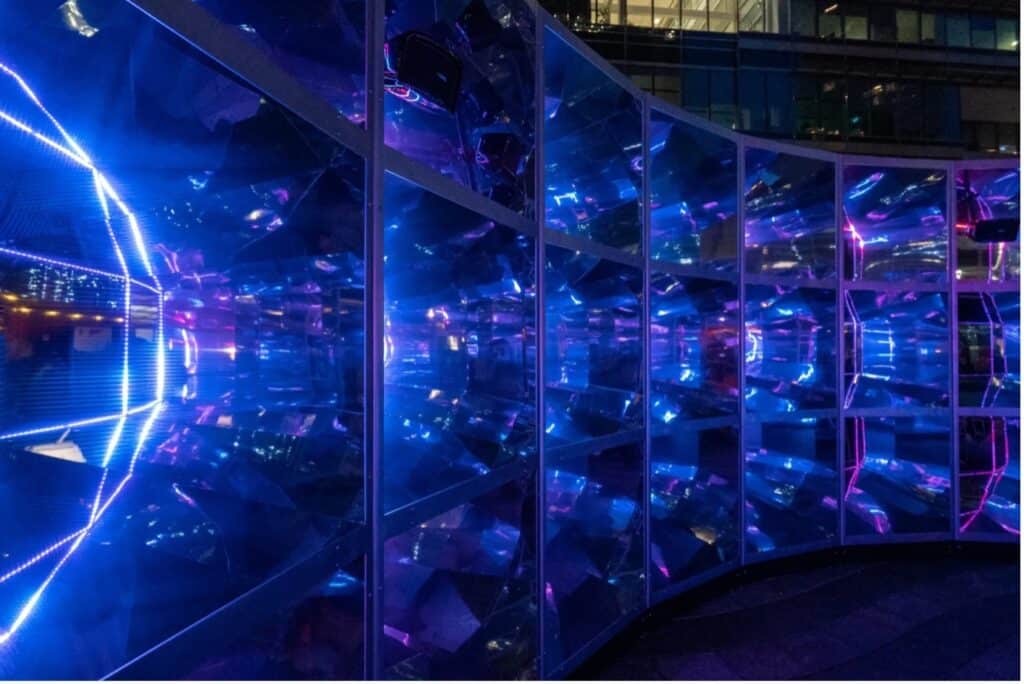 This is Loop – Emergence
Another exhibit that left a lasting impression was "Odyssey" by Greenaway & Greenaway. Their towering journey through space and time, with light reflecting off cosmic elements, was a visual marvel. It was a captivating experience that transported me to another world. You can find more about their work at https://greenawayandgreenaway.com/.
However, the show that stole the spotlight for me was "Sylvan Quiet" by Novak. The combination of tranquil music and creative projection mapping was a sensory journey like no other. The images of the projections, which blended elements of nature and human creativity, left me in awe. It was a truly remarkable experience that I won't soon forget. You can explore more about their work at https://novak.uk/.
Light Night Leeds this year was a memorable and inspiring event, thanks to these incredible artists and their captivating exhibits.
This type of lighting wasn't initially on my radar when I started my business after graduating in 2014. By 2016, I had established myself in the world of selling interior lighting at craft events across Norfolk and Suffolk, and I had also launched my Etsy store and website.
We have included images from my Etsy shop, showcasing how customers have incorporated our lamps into their homes. For more details and to read the reviews, please visit our shop at https://amberlightsuk.etsy.com.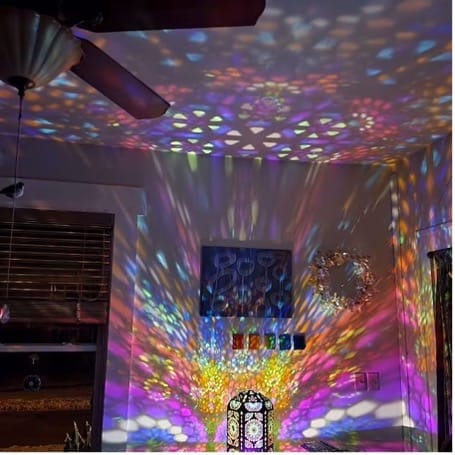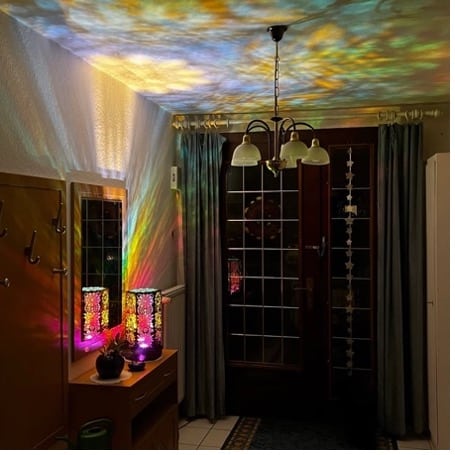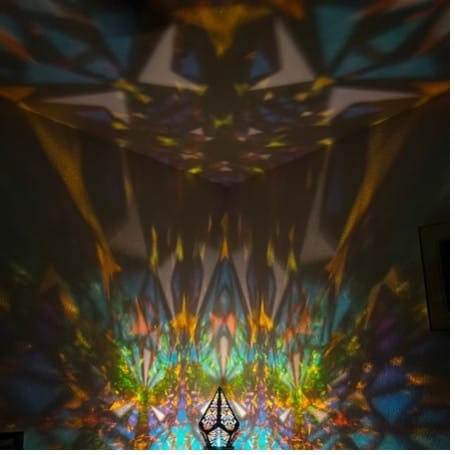 We are immensely grateful for stumbling into the realm of lighting and for the opportunity to connect with incredible lighting designers.
I want to extend my heartfelt thanks to Light Night Leeds for welcoming us back. We thoroughly enjoyed this event and look forward to the possibility of returning in the near future.
If you'd like to stay updated on our latest developments and events, we encourage you to sign up for our newsletters and follow us on Instagram – Amberlightsuk